FISHING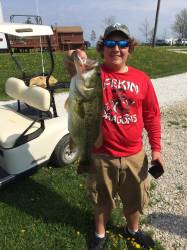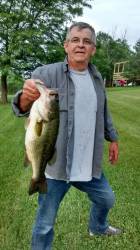 2015 Bass

Way to go Mike, Terry
and Brandt
FISHING MONTHS: FEBRUARY THROUGH MID-OCTOBER
---
ANNUAL MEMBERSHIPS NOW AVAILABLE.....
---
Fishing ONLY Annual Membership: $200 per person or $300 per family

Daily fee: $10 per person
CLICK HERE for printable Membership Form!
---
DAILY RATES:
RATES ARE BASED ON COUPLES & FAMILIES ONLY!
FAMILIES ARE DEFINED 2 ADULTS & 2 MINOR (under 16) CHILDREN.
GRANDCHILDREN ALWAYS WELCOME!!
---
Nightly & Weekend Camping & Fishing Rate: $25.00 per night, $30.00 with Electric per night
(RATE BASED ON 2 ADULTS* & CHILDREN UNDER 16 - ADDITIONAL ADULTS* $10.00)


Daily Per Person Fishing Only: $10.00


Daily Visitor Fee - Non-Fishing/Camping Activities ONLY: $5.00 for ages 16 and up.
(DAILY PERMITS ARE VALID UNTIL 8 PM)


Paddle Boat Rental:

$10.00 for 4 hours
$20.00 for all day



Row Boat Rental: $10.00 for all day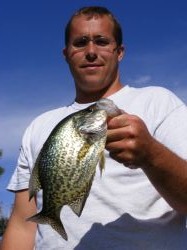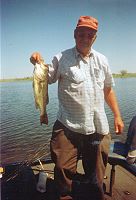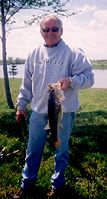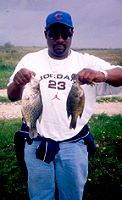 ---
FISHING
---
Free to registered campers.
There is a fee for all others.
Fishing may be enjoyed on all the lakes. The small lake behind the house is only private on the south side for our house guests. Please Do not walk through the yard. The shoreline may be enjoyed by all.
No Gas Motors on Any of the Lakes.
FISH SIZE & DAILY LIMITS - Violations of any of these rules can lead to termination of your fishing and camping privileges. WE PRACTICE "CATCH & RELEASE"

Largemouth Bass

DAILY TOTAL: 4 PER DAY

0" - 14": 3 PER DAY
14" - 18": RELEASE ONLY
OVER 18": 1 PER DAY

Catfish
Albino Catfish
Crappie
Bluegill